TechnoHub™️ - 17 in 1 Docking Station
TechnoHub™️
TechnoHub™️ is the best docking station possible with all the ports you need for your Type-C laptop, tablet, notebook such as MacBook, Windows, ChromeBook, etc. at the most affordable price. It stands vertically next to your machine to save space on a crowded desk and expands thirteen outstanding selection of ports so you can attach your system to two HD monitors and a wide variety of peripherals and devices simultaneously. It can even deliver up to 70 watts of power to your laptop. 
You can ditch other adapters and hubs lying around and sit TechnoHub™️ on the desk, plug in a single cable, and watch your laptop become a full-fledged work and entertainment station.
TechnoHub™️ is made from a solid piece of aluminum and can be positioned vertically on a removable stand to save space, or placed horizontally. It has 17 ports to connect your peripherals while keeping the host device charged, including 100W PD IN, 1080P VGA OUT, 4K HDMI OUT, 3 x USB3.0 port, 2 x USB-C port, 2 x USB2.0 port, SD/TF card readers, 3.5mm audio in/out jack, Gigabit Ethernet, 20W DC IN and a port to connect the host(offer max. 70W PD OUT).
It allows you to hook up almost all the accessories to expand the functionality of your laptop and take your workday to the next level.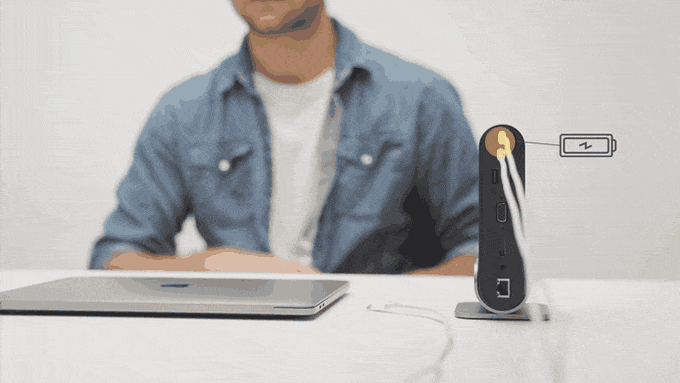 When used with a PD 100W USB-C adapter, TechnoHub™️ can provide 60W~70W power delivery to charge your laptop while having all other ports in use. 
The ports are strategically placed such that all the busy ports such as power in/out, Internet and external monitors are located on one side of TechnoHub™️, so the wires can be hidden away while keeping the other side neat and clean for other peripherals that are frequently plugged in and out. 
You can connect and run two external monitors, one 1080PA@60Hz VGA and one 4K@30Hz HDMI, to the host device simultaneously. TechnoHub™️ allows you to share your whole desktop across multiple screens so you can view and work on different applications at the same time; or to mirror the same content across all displays.
Instantly share photos and files between your devices while keeping them charged with 3 USB 3.0, 2 USB-C and 2 USB 2.0 ports. Move an HD movie in seconds with USB 3.0 at 5Gb/s. Keep your gadget charging at 7.5W max. 
TechnoHub™️ is both SD and TF card friendly. Copy, move and delete tons of images, videos and other files in moments. 
TechnoHub™️ features a combo audio IN/OUT jack. Plug in your device and you can still enjoy unsurpassed sound quality and deliver crystal clear outgoing audio. 
Order Here
---
More from this collection
Good product is the second I acquire for another team.
TechnoHub™️ - 17 in 1 Docking Station
TechnoHub™️ - 17 in 1 Docking Station
TechnoHub™️ - 17 in 1 Docking Station
TechnoHub™️ - 17 in 1 Docking Station
People who bought this product, also bought